If I wanted to list all the things brides need to think about on their wedding day, we would be here for … a while. I really hope you don't have to stress about how the photos look, and hopefully a few simple tips can make at least one part of the day a little easier. If you're in the "I don't know what to do with my hands" camp, read on for some advice on how you can hold your bridal bouquet on your wedding day to make everything go smoothly, make the flowers last longer, and make sure you and the flowers look just the way you want in your photos! Feel free to forward this to your bridesmaids too, because most of these five tips apply to them too.
Dry it off
Keep a small towel handy throughout the day so you can dab off the bottom of your bouquet. You definitely don't want water dripping onto your outfit!
Find the knot
If your bouquet is tied with a ribbon like mine are, then it'll have an obvious knot. Make sure you know where that knot is, because it'll help you know where the bouquet should be "pointed" while you're holding it. With my bridal bouquets, the knot is on the front of the flowers and slightly to one side. Make sure it stays there so that your bouquet doesn't accidentally start to rotate one way or the other!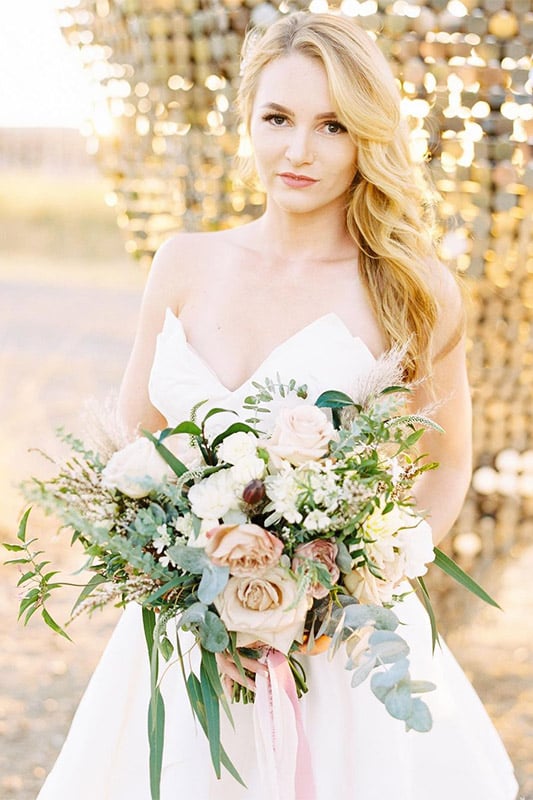 Don't hide your face
Believe me, I know more than anyone how cute it can be to have a photo of yourself peeking over the top of a beautiful bouquet. But only if it's on purpose! On your wedding day, everyone wants to see your face. Don't cover it up with your bouquet by holding it too high. Your friends and family want to see you!
Not too low
Of course, the opposite is also true. If you want to be sure the bouquet isn't covering your face, you may be tempted to hold it wayyyy down low, but don't do that either. Holding the bouquet at your crotch will extend your arms too much and make your photos look stiff and uncomfortable.
Just right: belly button
So where do I hold the bouquet, then? Keeping it at your belly button will strike the perfect balance — not too high, not too low. You'll look natural and relaxed by holding it there. One more thing: Tilt the flowers forward slightly so the different flowers will be visible from above. This will make everything even better.
Keep them in water!
I know wedding days are busy, and it's easy to forget little things like this. But if you want your bouquet to look its best throughout the day and into the night, keep it in a vase of water when you aren't holding it. The same goes for bridesmaid bouquets! By all means, them the flowers out and pose for photos before the ceremony, but once you're done and ready to relax for a bit, put the flowers back into water. This is probably one of the most common things I notice at weddings, and I can't say I blame anyone — there are tons of things to think about before and during any wedding, let alone yours. Maybe you can find a relative to keep an eye out for "abandoned" flowers and stick them back in water when they aren't being used.
Did these tips help? What did you wish you had known about wedding flowers before you got married? Let me know!